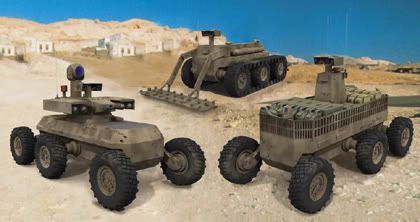 It is truly eye-opening to find out what kinds of gadgets and weapons are being developed as we sit here thinking nothing is going to change. And the stuff we find out about is only the tip of the iceberg, you can count on that. This military robotic vehicle, unfortunately named the MULE (Multifunction Utility/Logistics and Equipment), developed by Lockheed Martin, is an advanced unmanned vehicle.
Lockheed Martin's Multifunction Utility/Logistics and Equipment (MULE) offers extraordinary capability in unmanned vehicle technology. The MULE's highly advanced 6x6 independent articulated suspension, coupled with in-hub motors powering each wheel, provides extreme mobility in complex terrain, far exceeding that of vehicles using more conventional suspension systems. It climbs at least a 1-meter step, and can cross 1-meter gaps, traverse side slopes greater than 40 percent, ford water to depths over 0.5 meter and overpass obstacles as high as 0.5 meter while compensating for varying payload weights and center-of-gravity locations. The MULE includes three variants: Armed Robotic Vehicle - Assault (Light), Transport and Countermine.
The military has the big bucks, and so will usually be the most advanced in terms of what it's developing, but just as with the Hummer, these things usually find their way into non-military contexts.
Singularity & The Price of Rice is updated daily; the easiest way to get your daily dose is by subscribing to our news feed. Stay on top of all our updates by subscribing now via RSS or Email.