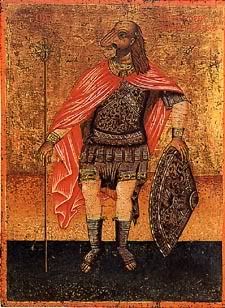 As I alluded to in yesterday's article, things look a lot different when viewed from an unfamiliar perspective. As former Christian, I read the Bible with a presumption of its veracity, even inerrancy. Reading it from that bias, strange and disturbing stories, assumed to be true, elicited wonder and curiosity. What could that mean? How would that work? Like that. For example:
Gen 6:4 MKJV There were giants in the earth in those days. And also after that, when the sons of God came in to the daughters of men, and they bore to them, they were mighty men who existed of old, men of renown.

Formerly, I would have studied the commentaries to see what learned Bible scholars had to say about these kinds of passages. I would have considered that the sons of God spoken of here might have been angelic entities who found human women enticing, or perhaps they were of a believing people, in contrast to the daughters of men, who were unbelieving. And the giants, they must have been a race of half angel, half human hybrid. But now when I read accounts like this without the bias of unquestioned belief, they seem to be of the same quality as the myths of other religions, utterly far-fetched and unbelievable. (In fact races of giants appear both before
and after the flood, even after they were all supposedly eliminated
.
Consider another example:
Deu 23:9-14 GNB When you are in camp in time of war, you are to avoid anything that would make you ritually unclean. (10) If a man becomes unclean because he has had a wet dream during the night, he is to go outside the camp and stay there. (11) Toward evening he is to wash himself, and at sunset he may come back into camp. (12) You are to have a place outside the camp where you can go when you need to relieve yourselves. (13) Carry a stick as part of your equipment, so that when you have a bowel movement you can dig a hole and cover it up. (14) Keep your camp ritually clean, because the LORD your God is with you in your camp to protect you and to give you victory over your enemies. Do not do anything indecent that would cause the LORD to turn his back on you.
They had to get rid of their feces and cover it up so that God, who apparently cares deeply about such normal human functions, might not be offended as he walked through the camp. What's that about? I must also mention the Lord's distaste for menstrual cycles. (Or perhaps the distaste was in the minds of the men who wrote the Mosaic laws.)
Lev 15:25 MKJV And if a woman has an issue of her blood many days outside of the time of her impurity, or if she issues it beyond the time of her impurity, all the days of the issue of her uncleanness shall be as the days of her impurity. She is unclean.
It is plain to me now that the Bible represents the culture of its time, of male domination and female subjugation. Even in New Testament times, women were told by the apostle Paul that they must wear head coverings and remain silent in the churches. This phenomenon, this antiquated and demeaning view of women, is found in the Muslim religion as well. Witness the recent story of a Muslim woman in Saudi Arabia who was raped, receiving 90 lashes as punishment for the crime of being alone in the company of men.
Things do look different from this angle, do they not? Again, I welcome your comments on these observations, as well as your own examples of the phenomenon I describe here.