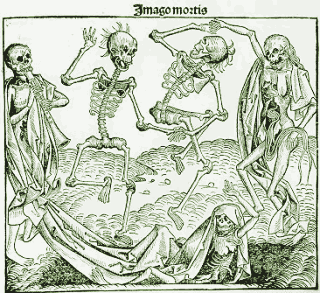 Not if you believe Ray Kurzweil. According to Ray, because we see death (and taxes) as inevitable, we rationalize its utility and try to convince ourselves that it is a good thing. The idea we've come up with is that somehow death gives meaning to life. But is death an inevitability?
Kurzweil points out that death is an artifact of evolution that no longer applies. In a society where resources were scarce, it made sense for humans to die in order to allow those who were younger, those of child-bearing age and those who cared for the young to have access to these few resources. Recall that evolution's only goal is the survival of the species in question.
Consider the following chart of changes in human life-expectancy:
Cro-Magnon Era: 18
Ancient Egypt: 25
1400 Europe: 30
1800 Europe and the U.S.: 37
1900 U.S.: 48
2002 U.S.: 78
We now know that the materials that make up our bodies and brains, the hardware, is not what makes us who we are, since it changes constantly. The actual atoms in my body right now will not be the same atoms in my body in a month or two. So what makes me a unique individual? The
patterns
that persist are the things that make me me. A good analogy that helps us to picture this truth has to do with the ripples in a rushing brook. The molecules of water are changing every second, but the ripples, or the patterns made by the molecules persist. The question then becomes, why should the software be dependent on the particular hardware it runs on?
Currently, when our human hardware crashes, the software of our lives-our personal "mind file"-dies with it. However, this will not continue to be the case when we have the means to store and restore the thousands of trillions of bytes of information represented in the pattern that we call our brains (together with the rest of our nervous system, endocrine system, and other structures that our mind file comprises).

Death is a tragedy. It is not demeaning to regard a person as a profound pattern (a form of knowledge), which is lost when he or she dies. That, at least, is the case today, since we do not yet have the means to access and back up this knowledge. When people speak of losing a part of themselves when a loved one dies, they are speaking quite literally, since we lose the ability to effectively use the neural patterns in our brain that had self-organized to interact with that person.

Did you catch that last part? The emotional pain we feel when a loved one passes, or even when they are just separated from us by distance, is very literally like losing a part of ourselves. We now know that, just as our brains make our thoughts, so do our thoughts (and experiences) make our brains. Permanent patterns are formed in our brains as we live our lives and interact with those we love. The loss of one of these people then means that those patterns have no one with which to interact with; they have lost the very person they were created to relate to. No wonder it hurts.
Since Kurzweil predicts that we will have successfully reverse-engineered the human brain by the late 2020s, his advice to us is to "live long enough to live forever." That is, if we can survive another 20 to 30 years, we will be among the lucky ones who are alive when technology learns how to radically extend our lives. I'd like to be there. How about you?